Live from Southern Dharma: Fresh Lev White
Fresh "Lev" White
December 5, 2022
Southern Dharma has expanded its program offerings to include live sessions with local Dharma teachers, as well as offerings from our residential retreat teachers. Live from Southern Dharma episodes may include meditation and meditation instructions, chanting, Dharma talks from our teachers and other practices they may have to share.
Live from Southern Dharma is offered to the public on a Dana (generosity) basis, and there is no fee for registration. Donations for the teacher are greatly appreciated. Participation in each session is limited to the first 100 users to join the call.
Click here to join the Zoom meeting
In person session takes place at Urban Dharma, 697-C Haywood Road. Masks are optional at this time. RSVPs are requested but not required.
---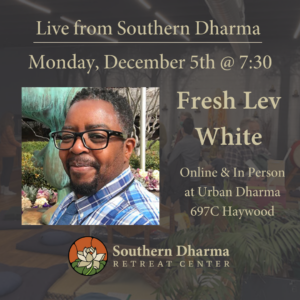 We will be joined on Monday, December 5th by Fresh Lev White who will have just co-led our annual LGBTQIA+ retreat with Eve Decker. The topic for the evening of teaching and practice will be "Practicing Transitioning with Presence: Preparing for the Winter Solstice."
Fresh "Lev" White is a love and compassion activist. He offers mindfulness, mediation, and diversity trainings as tools for shifting towards more authentic, conscious, and passionate living. He teaches and writes about how unconditional love and self-compassion are the ultimate gateways to honoring and understanding others; thus, healing our communities and our planet. Lev is mindfully grounded at the East Bay Meditation Center, and a graduate of Spirit Rock's Community Dharma Leadership program. Lev also offers secular mindfulness and non-secular meditation and talks on Compassion in both corporate and private settings. He credits his ability to reach and connect with diverse audiences to his years growing up in and around various communities in New York, D.C. and San Francisco. Learn more on LinkedIn: "Fresh "Lev" White" and https://affirmativeacts.org/
Teacher