[COMMUTER/ASHEVILLE] Redefining Hope in a Darkening World: A Meditation & Yoga Retreat
Jeff Collins and Gisela Konrad
October 25 - 28, 2023
You are cordially invited
to celebrate the bigness of being
the mystery of the holy ordinary
the flowers of a moment
– Ko Un
When asked about the nature of conscious life in this world, a master said it's like a ball tossed on to rapidly flowing water. Waking up in spiritual work begins when we start to feel intimately into that flow, and we begin to understand that all that is built up will come down and all that comes together will come apart. We begin to lose the illusion of solidity so that we can directly come to the question "Who – or what – are you, human person, in this ever-flowing universe? What is your true nature?"
The core work of this silent retreat will be the practice of intimacy with the experience of each living moment of our bodies, hearts, and minds. We will do this intimacy work in yoga practice, in seated meditation, in eating and bathing, and in all the worldly experiences we encounter as we commute in and out of the retreat setting. The retreat time gives a kind of protection to the intimacy work, but we are doing this work so that we can increasingly go anywhere and everywhere in every moment we live!
Each day of this retreat will include periods of Noble Silence, sitting meditation, walking meditation, and several periods of yoga, meditative movement, and breathing practices. Anyone who can breathe will be able to participate in these practices.
Please note that this program does not include overnight accommodations. Participants should plan to stay at home or secure another local lodging option in the Asheville, NC area. Ideally, your lodging will support you in sustaining a quiet, contemplative practice between group sessions. There are two hotels located within walking distance (GLō Best Western Asheville Tunnel Road and Best Western Asheville Tunnel Road). If you would prefer to explore shared local housing options with other registered participants, please email registrar@southerndharma.org after you have completed the registration process.
Lunches on Thursday, Friday, and Saturday are included in the program registration fee. All meals will be vegan with vegetarian options, with catering by 67 Biltmore. If you have further dietary needs, please communicate those in the appropriate registration field.
As this event will be held indoors, we are requiring that all participants take a rapid Covid test upon arrival. Tests will be provided. Please bring mindfulness to your activity in the days leading up to the retreat out of consideration for our staff, teachers and participants. Avoiding higher risk situations and making use of masks whenever possible will minimize the likelihood of transmitting viruses to others while on site. We strongly encourage folks to stay home if they are symptomatic of any communicable illness.
---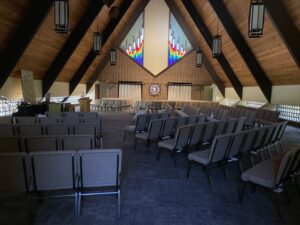 We are deeply grateful for your support.
Note that registration fees do not include dana for the teacher(s). In the Buddhist tradition the teachings are offered freely and teachers are not paid for their offerings. They rely on dana contributions from students. Similarly, Southern Dharma keeps registration fees low to ensure the Dharma is accessible to all. Fees cover only a fraction of Southern Dharma's operating expenses. We appreciate your practice of generosity to continue the dissemination of the Dharma.
Southern Dharma is now offering 50% scholarship awards for BIPOC participants and Young Adults, as well as those with financial need. Indicate your interest in a Southern Dharma scholarship during the registration process.
Teacher