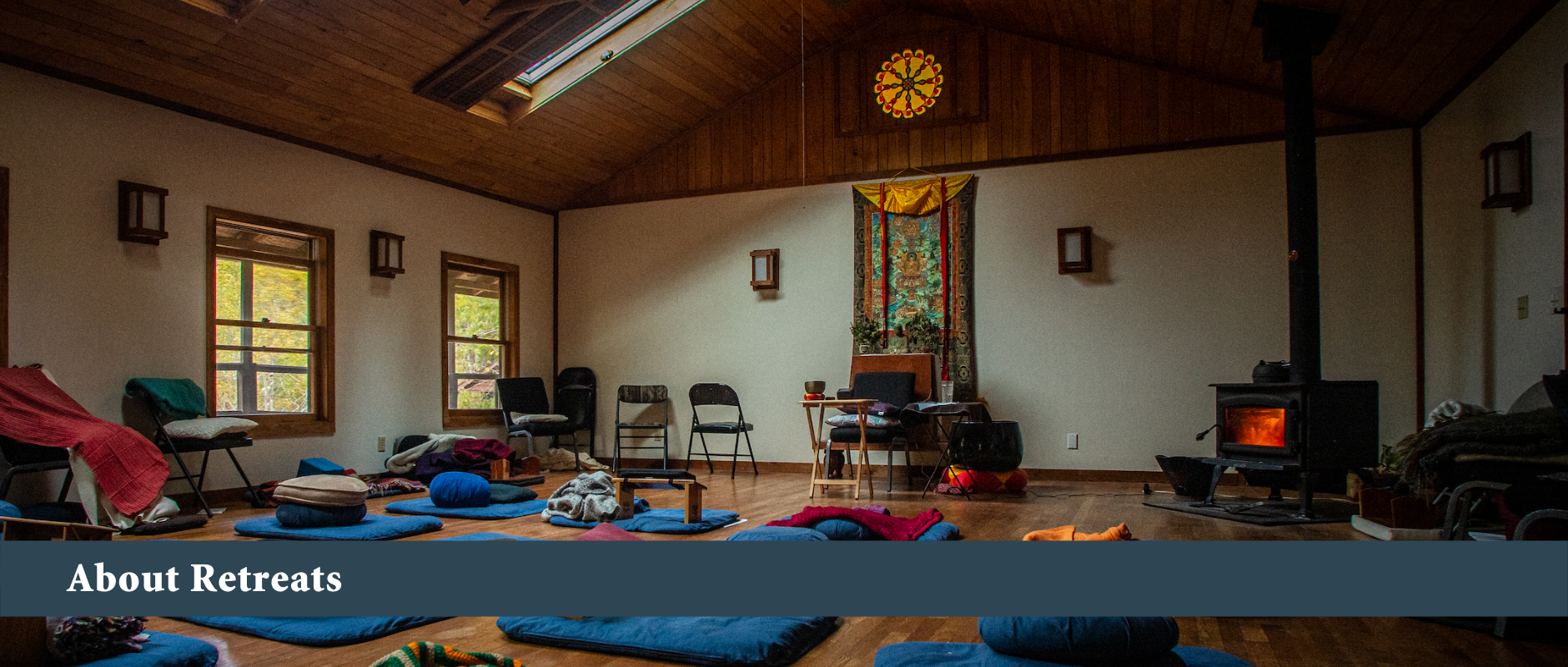 What Is a Meditation Retreat?
Simply put, meditation is the practice of observing one's present moment experience with a friendly and non-judgmental awareness. On meditation retreat, one has the opportunity to strengthen their ability to notice all things that arise and fall away in life, from great joys to deep sorrows, with greater stillness, clarity and compassion.
Meditation is a universal practice that is open and accessible to anyone who is interested, no matter their background (ie. religious or political affiliation, physical ability, race or nationality, gender expression or sexuality, economic status, etc). Southern Dharma staff, board, and teachers remain committed to welcoming all. Our doors are open to those who seek refuge and deeper spiritual practice.
Benefits of Retreat
Through a dedicated meditation practice and retreat experience, you may uncover:
greater clarity, wisdom, resiliency, and inner stability

a spaciousness for your experience (emotions, thoughts, bodily sensations) to simply arise and fall away, creating less reactivity and suffering

increased sense of well-being and supportive traits such as compassion, joy, forgiveness, and equanimity

a coming home to (befriending of) yourself
What Meditation Is and Isn't
In our Western culture, meditation is increasingly accepted across many fields, from health care and education, to politics and prison work. This has allowed the teachings to flourish. It has also led mindfulness meditation to enter mainstream culture, where the richness of the practices and their transformative potential can be misconstrued or misunderstood.
In some settings, meditation is introduced simply as a means of improving focus and productivity while reducing stress. While this is a great entry point into the practices, our hope for all who come on retreat is that their experience of meditation may deepen.
The teachings are shared with a lens towards helping individuals live in a way that does not cause harm to themselves or others. Unlike some mainstream teachings that just solve a symptom (ex. stress, lack of focus), our teachers share meditation techniques to help retreatants skillfully work with the very roots of suffering (ex. craving, aversion, fear) in their life and society.
Noble Silence
Most teachers begin Noble Silence at the start of the evening program in the Meditation Hall of the first night. Noble Silence, a time honored tradition, involves refraining from speech except in emergencies, setting aside reading or writing, and not making social contact (touching, meeting eyes, and other non-verbal communication). Different teachers approach Noble Silence in somewhat different ways. They will often provide clarification on expectations during the opening session.
Noble silence reduces the external chatter and social expectations, helping you settle more fully into your retreat experience. When the external distractions of life lessen, it is easier to tune towards the inner landscape.
Whether it's your first or 10th time attending a silent retreat, the idea of entering silence may seem daunting. Some associate silence with uncomfortable social situations or exclusion. For others, it's challenging to suddenly be so aware of thoughts, with few distractions.
Just know that if this is your experience while here, it is quite common. If it is challenging to adjust to the silence, the schedule, or the meditation, we encourage you to know
this is normal
it will pass
We are here to make sure your retreat experience is a time for refuge and deeper understanding.