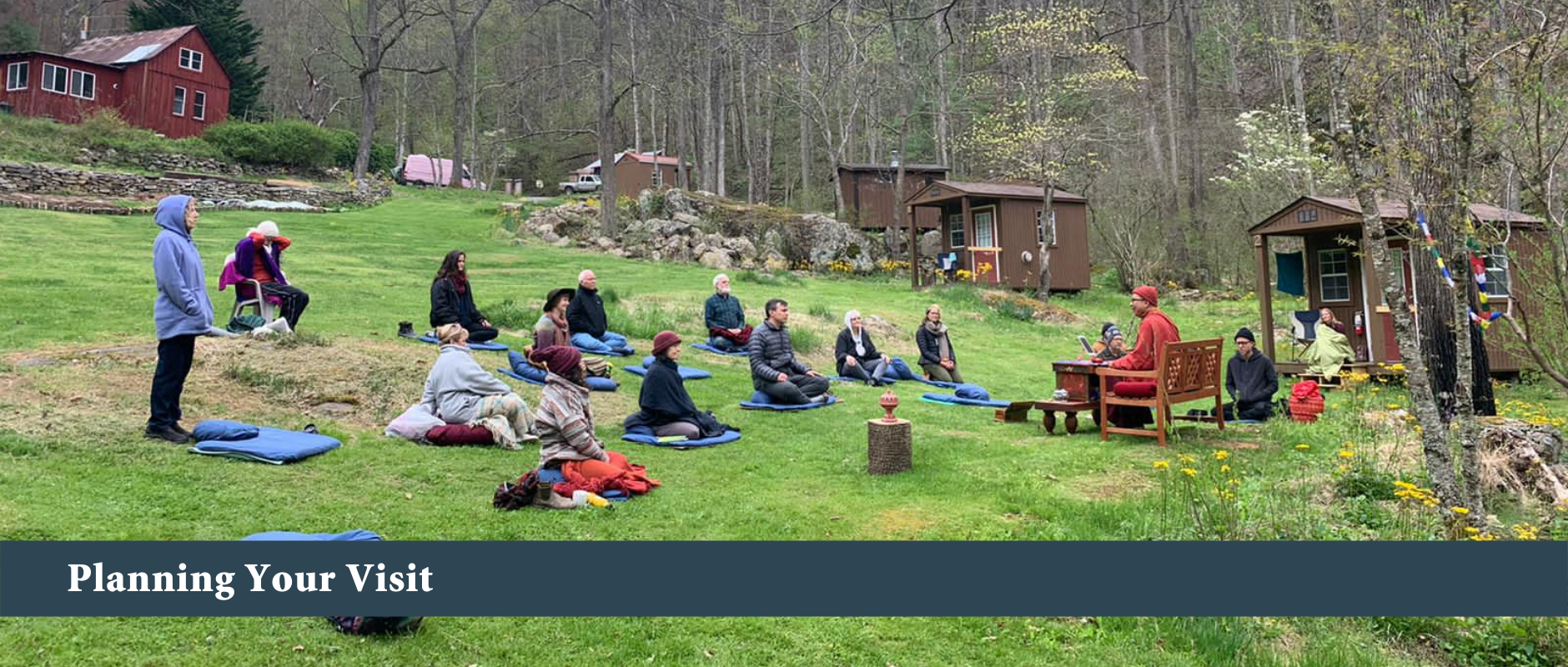 COVID-19 Vaccination & Testing Requirements
Until further notice, all registered participants will be required to present negative results from a Covid test performed in the 3 days prior to the start of your retreat AND consent to being tested upon your arrival at Southern Dharma. Any rapid antigen test is acceptable for testing, including over-the-counter at-home tests.
Registration Information
Please consult our retreat schedule to get information about when each retreat will open for registration.
Registration fees vary from $85- 110/ night depending on the fee tier and lodging selected. This also includes three meals a day. This covers about 65% of SDRC's operating budget.
At the end of each retreat, we encourage voluntary dana contributions to support our Center and our teachers — who serve without pay —  and the center — which supports the teachings.
Each registration deposit includes a non-refundable $100 registration fee.
Cancellations
All registrations include a non-refundable $100 deposit.
In 2023, Southern Dharma does not provide refunds of registration payments for retreat cancellations made 14 days or less before a retreat begins.
For cancellations made more than 14 days before a retreat begins, Southern Dharma retains the $100 non-refundable deposit as a cancellation fee.
Refund requests for emergency cancellations made 14 days or less before a retreat begins must be submitted via email to registrar@southerndharma.org and must include an explanation of the emergency circumstances. Southern Dharma reserves the right to approve or deny these requests. Emergency refunds are not eligible for refund of the $100 non-refundable deposit.
Retreat Transfers
If you request to transfer from one retreat to another (more than 14 days before the start of the retreat your are registered for) there will be a $35 transfer fee. In some situations a transfer may not be possible and normal cancellation procedures and fees will apply. Transfers are not possible 14 days or less than 14 days before the start of your retreat.
Kindly email registrar@southerndharma.org if you would like to transfer from one retreat to another. We will do our best to accommodate your request.
Special Needs & Requests
Southern Dharma is committed to making retreatants and teachers feel well-supported during our programs, within the limits of our space, staff, time, and resources. Please feel free to reach out to us at registrar@southerndharma.org at any time if you have questions about our ability to accommodate your need, whether it relates to travel, lodging, food, your ability to take part in sessions, or any other critical function of the retreat center.
For couples and participants coming with a friend: Please be prepared to enjoy a fully silent, solitary retreat. Our practice of Noble Silence includes all spaces, including the grounds and the bedrooms, and we request that you not engage in any communications (including the writing of notes) outside of formal retreat discussions and Q & A periods. You might consider investing yourself further in the retreat experience by not sitting together at meals and not engaging in non-verbal communication. This will help to support your full participation as well as reduce distractions for our other participants. We prefer to house couples (or pairs of friends) separately but we will do our best to honor requests for shared accommodations within the limits of our needs for any given retreat. Thank you for your understanding.
Getting Here:
Travel by Car
Located near the community of Spring Creek in Western North Carolina (Madison County), Southern Dharma can be reached by car in about an hour from Asheville and about 30 minutes from Hot Springs.
Enter the following address into your Maps app or GPS: 1661 West Rd. Hot Springs, NC.
Most visitors driving to Southern Dharma start out on divided interstate highways, proceed to winding two-lane state roads, and ultimately find themselves on the one-way gravel road leading up Hap Mountain to our secluded cove. We advise drivers on the gravel access road to use the lowest gear possible, to relax, and to maintain a slow, even (5-10 mph) speed through the small creek bed and up the various turns and switchbacks. We suggest that you avoid stopping on inclines and refrain from spinning tires.
Please note: As is the case in many sparsely populated rural areas in the United States, you will see confederate flags flying on some residence and businesses. We have never heard of anyone being harassed or treated with disrespect along the way, but we acknowledge that the sight of the flags themselves can be disturbing.
When feasible, we encourage carpooling and promote ride offers and expressions of transportation needs through our online registration system, particularly for those who are first time guests, have little experience driving on mountain roads, or who would feel more comfortable for any reason traveling in a group. While we're happy to facilitate carpooling communications, however, we cannot guarantee to provide rides to or from Southern Dharma.
Rides from Southern Dharma to Asheville with other departing retreat guests can generally be arranged at the conclusion of retreats.
Shuttle Providers
*Note: these shuttle providers will service from Asheville or Asheville Airport to Southern Dharma
Travel by Air
Southern Dharma is located about 1.25 hours by car from the Asheville Regional Airport (AVL). Upon request, we will try to facilitate carpooling between the airport and the retreat center, but we cannot guarantee rides.
To allow ample time for ground transportation, guests should plan flight arrival in Asheville before 3:00 p.m. on the first day of the retreat and flight departure no earlier than 3:00 p.m. on the last day.
Practice of Generosity
The Pali word dana connotes generosity—both the practice of generosity and the contributions made in the spirit of generosity. Southern Dharma perpetuates a long-standing tradition of dana practice by inviting retreat participants to make financial contributions to support the work of teachers and the operations of our center.
We reimburse teachers for travel expenses, but we follow a long-established tradition of not paying teachers for service. Teacher service at Southern Dharma is supported through dana.
We strive to keep registration fees as low as possible to facilitate retreat participation, and we provide generous scholarship support to people in need. Dana practice supports our mission.
We invite voluntary financial contributions at the conclusion of each retreat.
Food and Housing
Meals at Southern Dharma are primarily vegan (vegetable based; no ingredients of animal origin) with occasional egg and dairy options available at meals. Registration fees include three buffet-style meals each day with lunch served as the main meal of the day. We offer a variety of dishes with each nutritious meal, utilizing as much locally grown produce as possible. Fresh-brewed coffee is available each morning. Instant coffee, a variety of teas (both caffeinated and non-caffeinated), and fresh fruit and light snacks are available at all times.
We accommodate gluten-avoidant diets with notice provided at the time of registration. We do not have a gluten-free kitchen, do not use separate cookware for different dietary restrictions, and cannot guarantee that traces of allergens will not be present in meals.
We provide retreat participants with extremely limited food storage and refrigeration space and no individual food preparation facilities. Due to space, facility, and staffing limitations, Southern Dharma cannot accommodate all dietary restrictions.
We require advance notification at the time of registration of any severe or life threatening food allergies. Many of these can be accommodated.
Facilities and lodging at Southern Dharma include a meditation hall, guest lodge with dining room and library, six rustic one-person cabins (kutis), and four tent platforms. The rugged mountain setting and steep natural terrain of our campus are not conducive to handicap accessibility. Access to most facilities requires use of indoor and outdoor stairways.
Lodging is in shared rooms with common showers and bathrooms. We house fourteen people in double rooms on the second floor of our wood stove-heated lodge and ten people in a third-floor dormitory (with beds separated by privacy partitions). All lodge rooms are furnished with twin beds.
Guest accommodations outside our lodge include six one-person kutis and four tent platforms. Three of our guest kutis are heated by propane heaters but none of the kutis have indoor plumbing or electricity. People reserving tent platforms must supply their own water repellant tents and sleeping gear. One-person kutis and tent platforms are located near a common summer shower house and a separate toilet facility.
Room and tent platform assignments are allocated through the registration process in the order received. Retreat participants must accept or decline housing options available at the time of registration. Southern Dharma reserves the right to consider special needs in determination of final room assignments.
What to Bring
Approximately thirty days before a retreat begins, we email registered guests a confirmation notice containing details of what you need to bring.
We ask that you bring your own sheets (for a single bed), pillow cases, and towels. We also have linen rentals available upon request for $25 which includes sheets, pillow case, a washcloth, and towel.
You will need indoor shoes, slippers, or socks to wear inside our lodge and meditation hall and outdoor shoes suitable for rugged terrain or hiking for outdoors. (If you plan to spend any time inside our kitchen, you will need to wear closed-toes shoes.)
We provide zafus, zabutons, meditation benches, chairs, and "sticky" yoga mats—but you are welcome to bring your own.
We recommend modest, loose-fitting clothing — and various layers of clothing for variable temperatures and weather conditions. Some teachers prohibit shorts or sleeveless tops in the meditation hall.
Guests reserving tent platforms must supply their own water repellant tents, sleeping gear, and camping equipment.
Don't forget toiletries, flashlights, and water bottles! While you are here, we do have a small supply of emergency medical supplies with items such as itch cream, Tecnu for poison ivy, and ear plugs, should you find yourself in need.
What Not to Bring
Southern Dharma prohibits the use of hair dryers (except for one low-decibel dryer we make available for guests to share), incense, candles, alcohol, tobacco and tobacco products, and all recreational drugs.
Out of respect for those with chemical sensitivities and because the retreat experience involves being in close quarters with others, we expect guests to refrain from using personal scented products such as perfume, cologne, or strongly scented toiletries.
In observance of Noble Silence, guests should not plan to use cell phones, computers, or electronic communications devices. (Most cell phone service is not accessible at Southern Dharma, and internet access is not available to guests.)