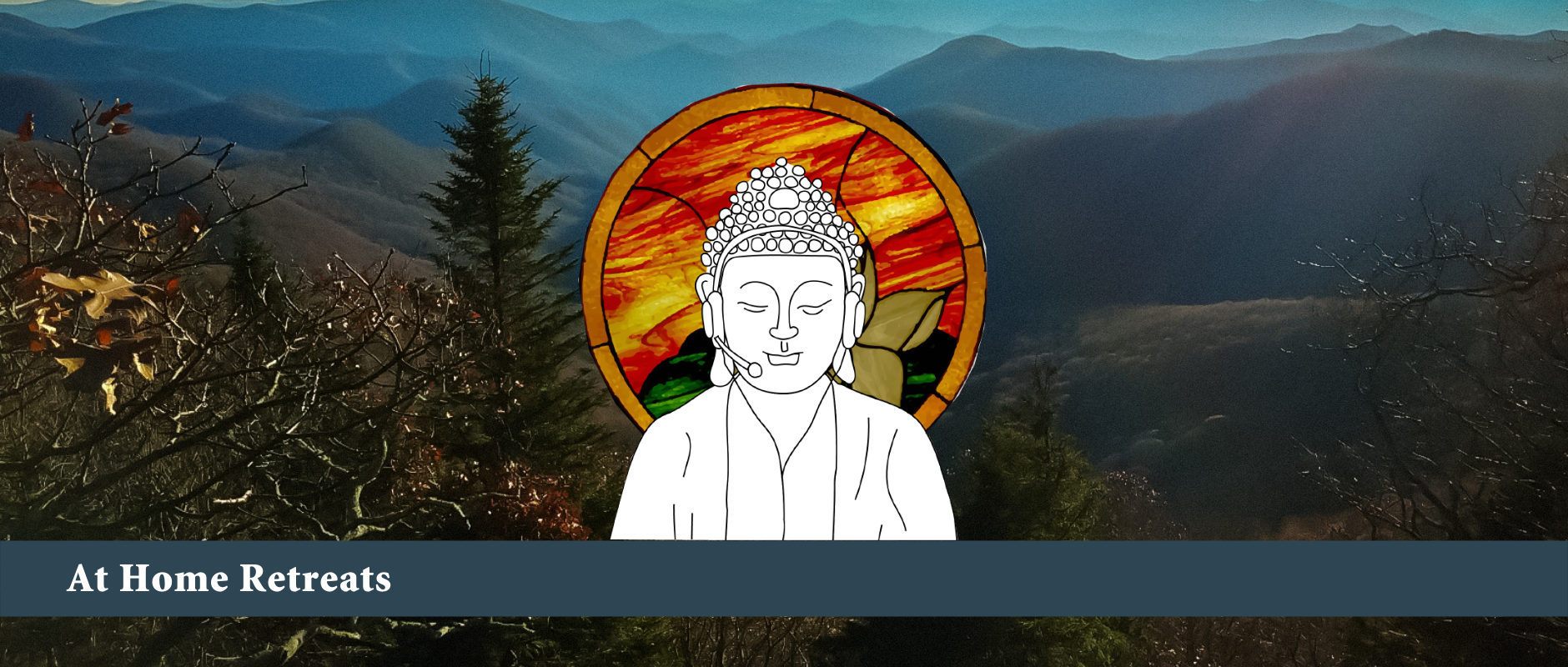 Southern Dharma's At Home Retreats Bring the Meditation Hall to You!
Find your center at one of Southern Dharma's unique At Home Retreat offerings. Our retreats are Zoom-hosted virtual containers lovingly created by the Southern Dharma staff and retreat teachers for your meditative and spiritual practice.
A New Retreat Experience
In this time of social distancing and quarantining you've likely heard about virtual retreats, online meditations, and remote mindfulness offerings. Southern Dharma is offering what we call At Home Retreats - retreat experiences that mirror that of an in-person, residential, silent meditation retreat held via the Zoom platform. 
How can you possibly create a meaningful retreat experience through Zoom? you may ask. Over the last several months the Southern Dharma staff have committed to figuring that out, and our yogis have not been disappointed:
---
"I was surprised that my sitting practices were as deep as if I was in sharing real space with others. At a time when I'm relatively isolated, it was joyful to see other humans without masks on." - A.A. (Asheville, NC)
"This was my second home-based online retreat. I am finding that I love the opportunity to bring the retreat experience into daily life. I carried on with some routine activities but was able to be much more mindful. This is not possible during in-person retreats, only after they end." - A.W. (U.K.)
This was my second online retreat with Southern Dharma and again they have done an excellent job making this format easy to use and yet still feel like you're connecting effortlessly with others. The staff appear incredibly professional, genuine, and kind. Thank you so much." - W.M. (Nashville TN)
---
Orientation
All of our At Home retreats begin with a required orientation to ensure retreatants understand the platform and structure for our time together. Staff is also available prior to the start of retreat for 1:1 tech support. During the orientation we will help you connect to the North Carolina land where Southern Dharma resides through images and updates, so that you might recall what it is like to drive the gravel road up Hap Mountain to begin your retreat. 
Noble Silence
Following orientation we encourage the start of Noble Silence. We understand that Noble Silence will not always be possible or practical in the home environment, and so encourage retreatants to choose an approach and practice that is appropriate for your specific circumstances. We've also had several yogis let us know that they are renting Air BnBs or other living spaces with WiFi for sitting their At Home Retreat, and that they have found this reduces distractions. 
Retreat Sessions
Retreat sessions are then offered as Zoom meetings hosted by the Southern Dharma staff and retreat teachers. We follow a schedule that mirrors that of an equivalent residential retreat. Sessions include silent sitting meditation with a practice leader, movement practices such as Qigong or yoga, meditation instructions, Q & A's, Dharma Talks, small groups, and 1:1 meetings with teachers. We make use of Zoom breakout rooms and the hand raise function to facilitate easeful sessions. Southern Dharma staff is also available to assist retreatants with any technical difficulties that may arise during retreat sessions, as well as to pass communications between retreatants and teachers. For additional information about using the Zoom platform, check out this guide. 
Dana
Please note that registration fees do not include dana (Pali for Generosity, referring to financial contributions) for the teacher or the Center. In the Buddhist tradition the teachings are offered freely and teachers are not paid for their offerings. They rely on dana contributions from students. Similarly, Southern Dharma keeps registration fees low to ensure the Dharma is accessible to all. Fees cover only a fraction of Southern Dharma's operating expenses, and mostly go to living-wage salaries for retreat staff. We appreciate your practice of generosity to continue the dissemination of the Dharma!
Accessibility
Two of Southern Dharma's guiding principles as an organization are Hospitality and Accessibility. We recognize that we are on a continuous journey to make people feel increasingly welcome, supported, and included in every aspect of our programs and our physical spaces.
For international retreatants, we are happy to work with you around any issues concerning payment or schedule difficulties to ensure that you're able to participate fully. We value the live retreat experience highly at Southern Dharma, though we do offer recordings for certain sessions to individuals joining us from time zones that are 4 or more hours away. We request a modest contribution for this service, but no one will be denied access for lack of funds. 
As of March 2021, we also now offer closed captioning for all our retreat sessions with no additional fees. Retreatants have the option to turn this off or on as needed.
Southern Dharma offers a variety of financial assistance options, including a general need-based scholarship, a BIPOC scholarship, a Young Adult Scholarship, and the Hemera Fellowship. See our Scholarships & Fellowships page for more information.
Above all Southern Dharma is committed to continuously co-creating a sacred retreat container with those who wish to sit with us. Until it is safe for us to share physical space, we will strive to offer an At Home experience that is connecting, inclusive, and spiritually grounding for our beloved Sangha -- no matter who or where they might be. 
Check out our

At Home Retreat Schedule

 

to find the right At Home Retreat for you.