Mama Appalachia by Sami Claire Walden, Winter Resident
Her smile as wide as the Appalachian mountains
as dark as the night sky
snow flitters on the soft rounds
something of a twilight reflection
that beckons me to see beyond
that stills me enough to hear the bird wing flap
as she ascends off the white washed branch
enough to stone me
cool as winter breeze
firmly rooted to the changing spiral
in the chorus of this silent season
Spirit catching up to body
Body catching up to spirit
Soul as witness
Reverberating truth as twilight falls again
Never promising another day, hour, minute,
Or moment of sunshine
but something of a beginning stirs
Something of hope
A remembering that there is some kind of forever
Weaving us above, below, between, beyond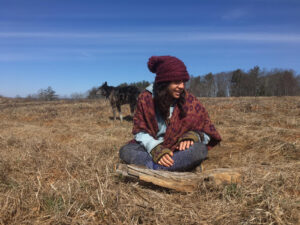 Hello! My name is Sami Claire and I have been a winter resident at Southern Dharma Retreat Center since the end of January. This time has allowed me to deepen my meditation practice, contribute to this beautiful community, heal my body and find clarity on how I would like to proceed on my path of service. Although my days are coming to an end, it seems this is only the sweet beginning of my relationship with Southern Dharma and all beings, plants and animals on this land. I have found another refuge, home and sangha in this life and for this I am forever grateful.
Thank you for reading and for being.
May you be happy, well and do that which brings you joy.