In February 2021, Southern Dharma asked our newsletter subscribers to participate in a (highly unscientific but still very informative) survey on gender & accommodations. The survey seeks to inform Southern Dharma's practices around the assignment of housing options and how gender does (or doesn't) play into that. Our intention is to maximize the housing we have available for as many retreatants as possible, and also to be accommodating of diverse needs and diverse genders.
We asked respondents to kindly set aside concerns about snoring, since snoring is something that people of all genders can be prone to, and we already ask a specific question about that on our registration form.
As of mid-May 2021, we received 74 responses, partially summarized below by question: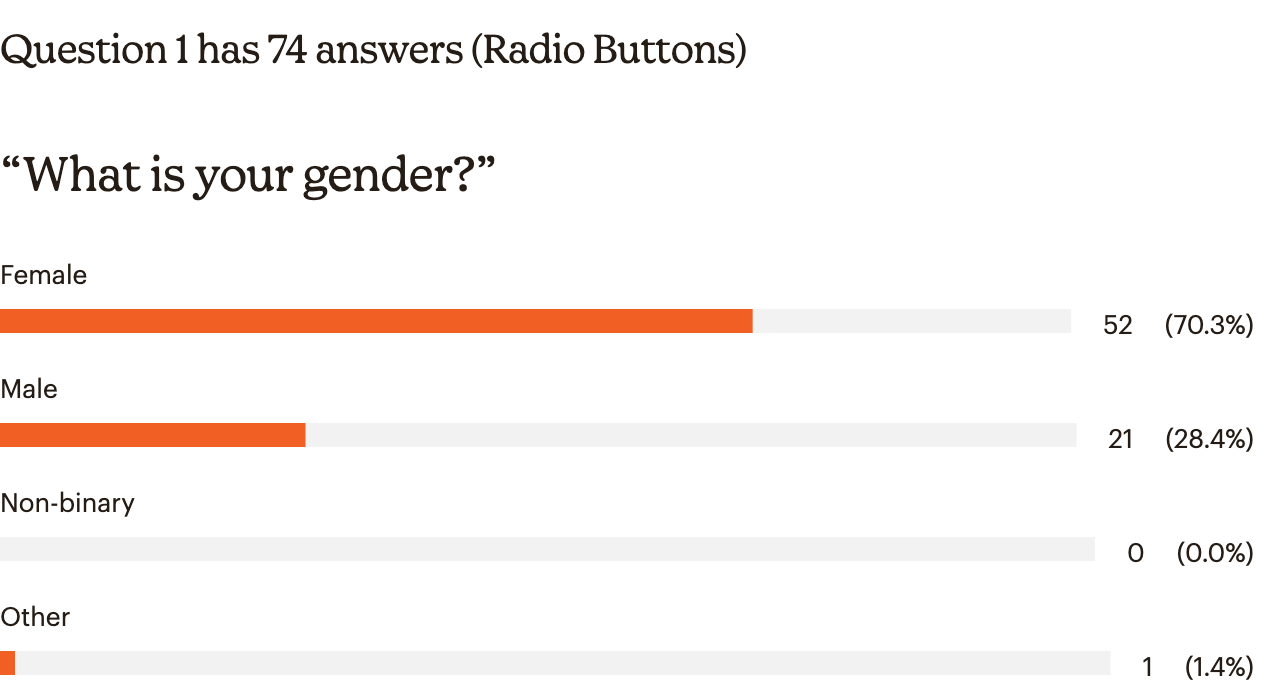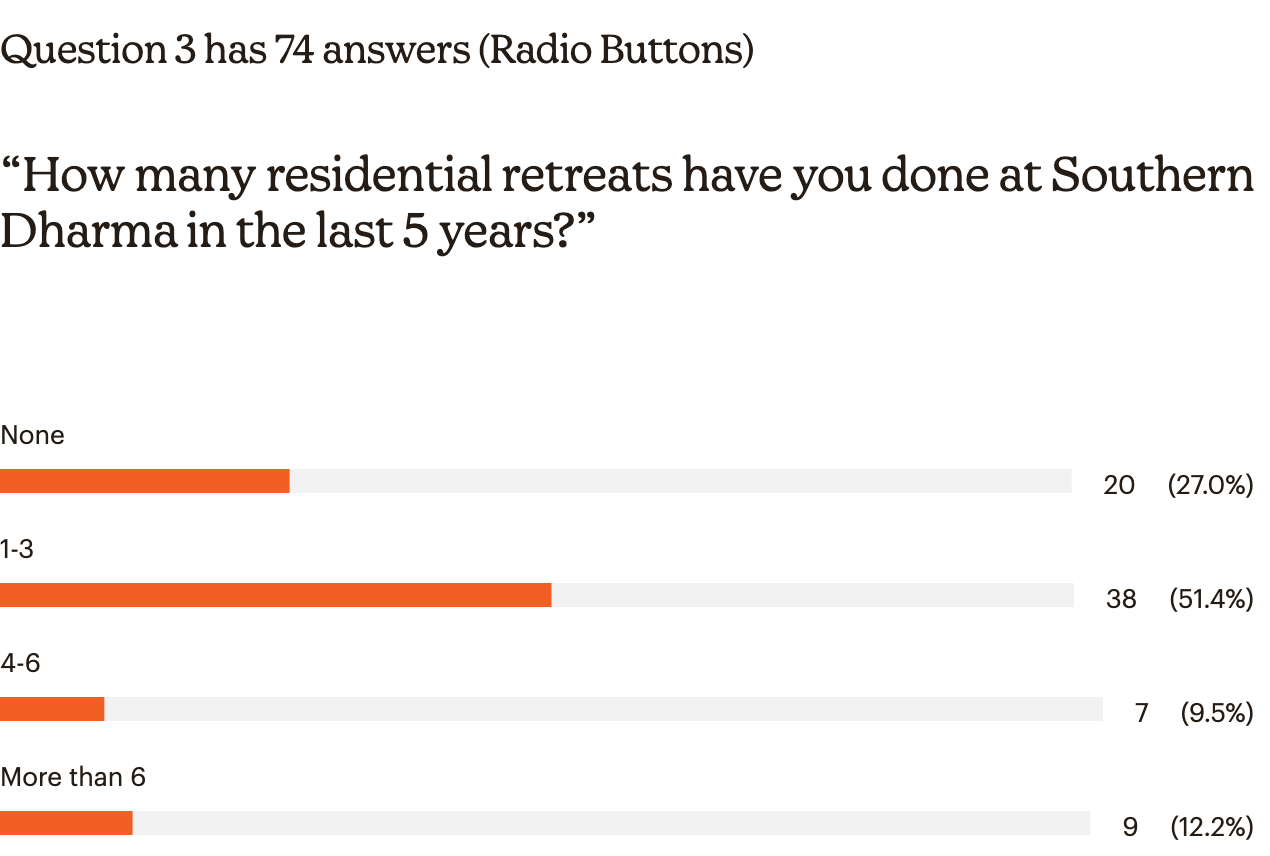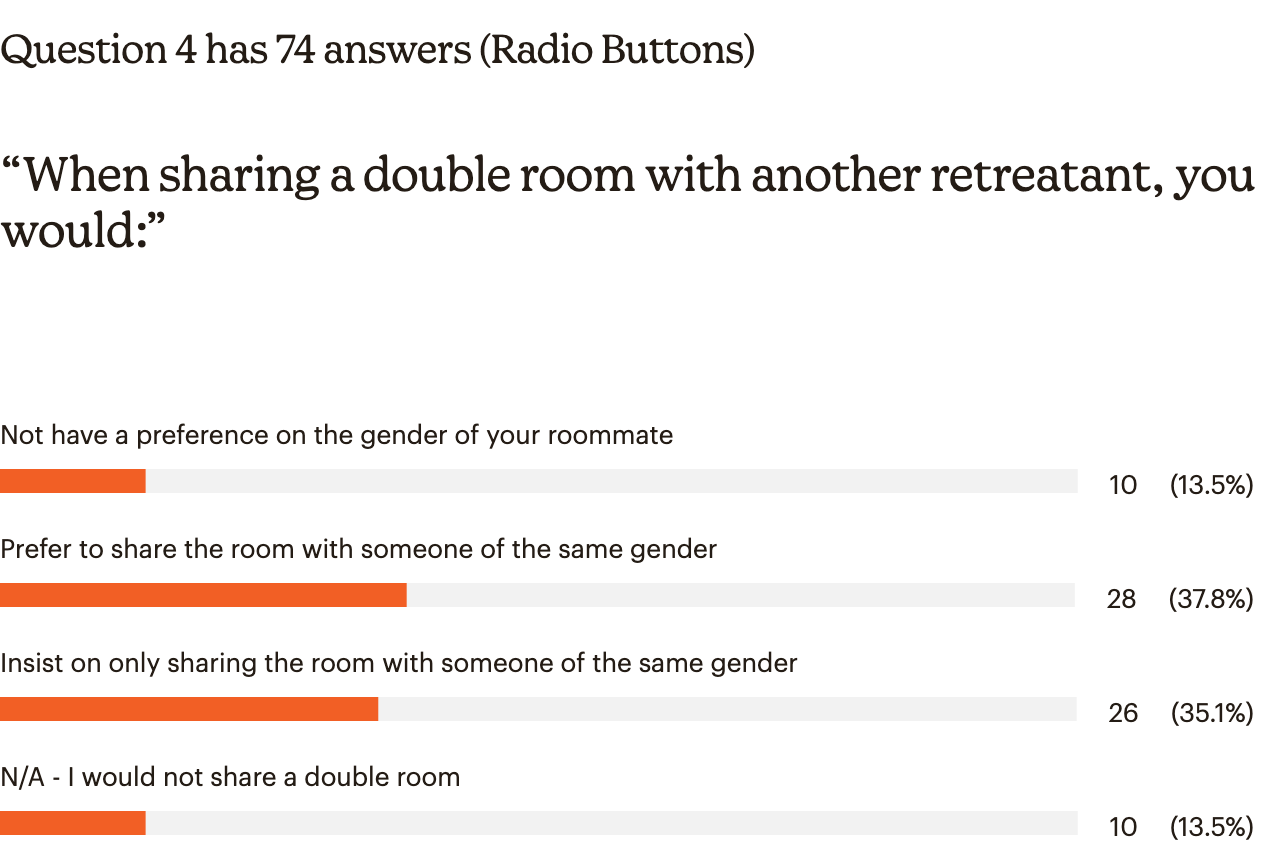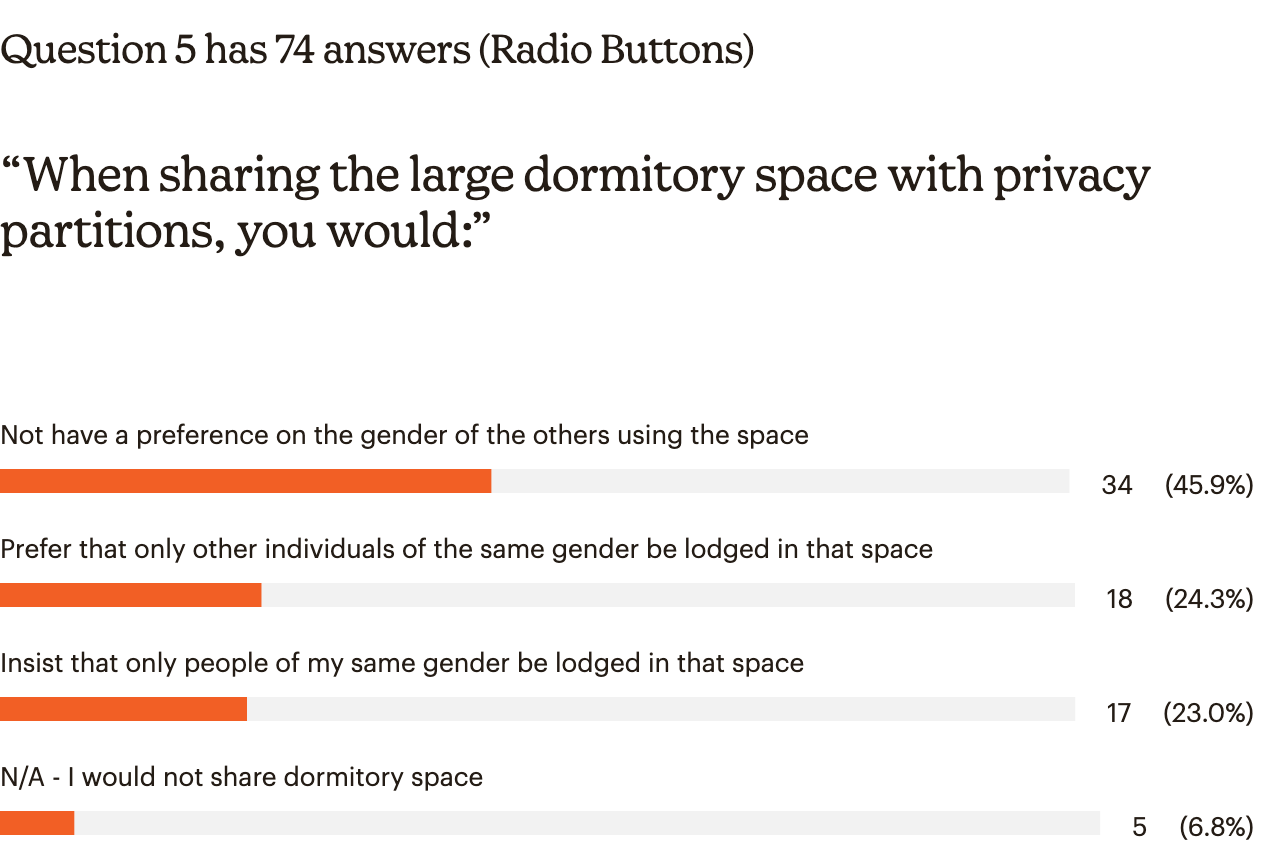 So, what are my key takeaways from this (and some further analysis)? What are the things I feel that we need to keep in mind when making changes?
Only women said that they would insist on sharing a space with someone of the same gender, whether it was the dorm or the double bedrooms. Those who felt this way still represented a minority of the respondents, though a majority of female respondents would at least prefer to be housed with other female retreatants if not insist upon it.
People are apparently more sensitive in regards to sharing the double rooms versus the dorm spaces on the 3rd floor, which offer privacy partitions.
People who have been on 4+ retreats have significantly stronger preferences to be segregated by gender. It's possible that this is due to the fact that they are older but we did not ask people to identify themselves by age in the survey.
Several female respondents specified that they consider anyone who identifies as female as female, regardless of their birth sex.
In the open feedback question, we received some additional requests to "please take extra care of gender nonconforming people. Making effort to ask what they need to feel safe and comfortable." We also received some appreciation for asking these questions at all.
We may make a decision based on the feedback to allow people of all genders to share the dormitory space (rather than restricting it to females), and use the double rooms on the 2nd floor to house retreatants who either prefer or insist on sharing space with someone of the same gender, especially females. This will allow us to adapt more flexibly to registrations for any particular retreat, rather than restricting admission to individuals of a particular gender in order to fill our remaining spots. We will also discuss whether single kutis or tents could be blocked off for retreats until we determine that someone does not have a critical need for a solo space, rather than just a preference. These could be, for example, gender nonconforming individuals who do not feel comfortable sharing sleeping space at all.
Feel free to comment on this post if you have thoughts to share on the results. We are also open to receiving more responses if you haven't yet participated in the survey, but would like to. Thanks in advance for completing the survey by June 1, 2021, at which time it will officially close.
Questions? Contact director@southerndharma.org.